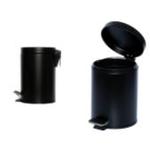 Elegant alternative to stainless steel pedal bins.
These matt black pedal bins are available in 3 capacities: 3, 5, & 30 litres.
They are fitted with a removable liner to keep the bins clean and ease hygienic disposal of contents.
The pedal mechanism is made of 100 % metal components for increased durability.